Sutton Smith was considered a steal when Pittsburgh made the former Northern Illinois pass rusher the 175th overall pick in the 2019 NFL Draft. During his final two seasons at NIU, Smith, who converted from RB to OLB to DE during his time with the Huskies, recorded 29.0 sacks during his final two seasons while helping Northern Illinois capture the Mid-American Conference title last season.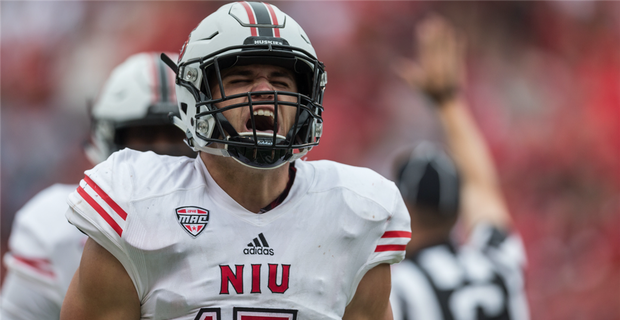 While he did have some glowing things to say about Smith, ESPN draft expert Mel Kiper did express concern for Smith's lack of size shortly after the Steelers drafted him in the fifth round. Smith, who will line up at OLB for the Steelers, checks in at 6'1 and 237 pounds.
"He was a dominant force at Northern Illinois," Kiper said of Sutton. "Getting into that backfield, wreaking havoc. He was a sack artist. He had production through the roof. The issue is the NFL is gonna be [his] short arms. Can he get the job done against the best in the world at the offensive tackle spot…He is a solid football player at the collegiate level who made a ton of big plays. Very impactful edge rusher getting into that backfield, wreaking havoc.
"Is he limited to being just that or can he transition to the pro level, overcome the lack of length getting after the quarterback?" Kiper continued. "That's tough to do, even though he does have that closing speed (he ran a sub 4.7 40-yard-dash at the combine). It's gonna be interesting to watch and see how he develops in the NFL with the Pittsburgh Steelers, who are always looking for guys coming off the edge."
Pittsburgh GM Kevin Colbert, speaking on 93.7 The Fan after the draft, is not worried about Smith's lack of size. In fact, Colbert compared him James Harrison, the franchise's all-time sack leader. Despite being labeled as small for his position, Harrison, who was listed during his playing days at 6'0 and 242 pounds, was a five time Pro Bowler, two time All-Pro and the 2008 NFL Defensive Player of the Year. Harrison, an undrafted rookie out of Kent State in 2002, also retired with two Super Bowl rings.
"[People] talk about, 'Well, he's going to be short' and that but he was very productive like James Harrison was in the MAC, with (14.0) and 15.0 sacks," Colbert said of Smith. "Can the shorter guys succeed as an outside rusher? Yes they can. Again, we look at James for that reference."
Smith is used to be doubted. After barley playing during his first two collegiate seasons, he went through a rigorous offseason workout regiment that required him to consume 6,000-7,000 calories per day. Sutton's hard work resulted in him being on of college football's most productive pass rushers over the past two years.
Now, as he prepares to begin his career in Pittsburgh, Smith is again looking forward to proving people wrong.
"My path is to fight, and that's all I know how to do is fight," Smith recently said, via the Pittsburgh Tribune-Review. "I'm going to do everything I can to prove to people that I can be an NFL player, that I can do whatever they need me to do. I'm not going to be selfish. I'm just going to try and help the team in any way that I can."